President's Message
This month I'm having trouble finding a good topic that I can muse on for a while. I thought about touching on the political doings both in Arizona and at the national level, but both are getting so much coverage in both mass media and the internet that I think I'll pass on that topic. It did occur to me to expound a bit on a subject that I touched on a couple of months ago (April to be exact), which certainly could be controversial, but this article is bound to be relatively brief if I do that. Nevertheless, this is an important topic and I find it so extremely unfortunate that so few people understand this, including in our community. So I guess I'll spend a little time on it. The topic is "race" and what it really is.

As I said in April, I was in the middle of reading a book entitled "The Myth of Race" by Jefferson M. Fish, PhD. I finished reading it and I found it to be one of the best books that I've read for some time, at least in terms of science written so that the average person can follow well. It's also interesting and enjoyable to read. The premise of the book is simple - in the human species, "race" does not exist in a biological sense. This is something that is inherently obvious to people who travel the world and study different cultures, such as anthropologists, and has been a scientifically established and well understood fact since the late 1960's. And yet, we seem to be fairly stuck in the idea that people are separated into groups determined by how they look. But, as was so well established in the book, how people are categorized by physical traits is quite different depending on where you are in the world. You might even remember that the categories in the U.S. census have changed several times over the years. It turns out that "race" is more of a cultural thing than biological.

The physical traits that we attribute to any given "race" tend to change in gradients towards, and away from, the highest and lowest concentrations of that trait in populated areas. This is true all over the world and is well illustrated and explained in the book. Further analysis shows that even intelligence is correlated much more to environmental factors, such as poverty and systemic oppression, than to any visible physical trait. That certainly blows holes in some people's ideas doesn't it?

So why is "race" still such a big factor in our general discourse and why haven't we, as a culture, embraced what our scientists have been telling us for so long? The author helps to define some very intriguing theories about why the idea started in the first place, describing the economic utility in categorizing people differently among other things. But the most prominent theory introduced in the book has to do with something called memes (you may have read about the concept in Richard Dawkins' book "The Selfish Gene"). A meme, very inelegantly defined, is an idea or way of thinking that sticks in our heads and spreads easily to other people. I'm sure that you can think of several things like that right off the top of your head. And that brings me to the next book that I'm tackling entitled "The Meme Machine" by Susan Blackmore. I'm only just beginning to read this book but I can tell already that it's a good one. I suspect that it's a bit outdated and much has been learned on this topic since the book was published (in 1999) but I believe that this is a good place to start.

While this article might have the feel of a book report, I'm really trying to get some clout behind a concept that I've been trying to articulate for years. It is really true that "we are all the same people". Obviously, I only just touched on the topic and can't really do the book, or the concept, any real justice here so, if you are interested in getting an education about the subject of "race" from a scientific viewpoint, I strongly recommend this book at least to start with. I'm sure at this point that there are many books that can explain this topic well and if you find another good one, drop me a line at the address below. I will happily take suggestions.

Lastly, I want to point out that this knowledge in no way minimizes the horrible atrocities visited upon any group of people who look different from their oppressors. In light of the facts noted above though, it certainly does put it all into a very different perspective doesn't it? And doesn't it make us think differently about how to move forward from here? What would a culture look like if everyone knew that we really are all the same people and that physical traits are quite irrelevant in the big picture? If the biggest difference between people is culture, that can then be embraced as something desirable and even beautiful, IMHO.

LINKS
Here are links to some of our important webpages. Our Meetup page is at HSGP Meetup. Our Facebook page at HSGP Facebook Page. Our Facebook Group can be found at HSGP Facebook Group. And lastly, since you're reading this, you probably already know but our main website is at HSGP website.

CONTACT ME

You can email me at President@hsgp.org or look on the left side of this page to find out who your board members and committee chairs are to contact to them.

Richard Dewey
President, HSGP
Turn Business into Fundraising for HSGP
One easy way Humanists can raise funds for HSGP is by giving our business to businesses that return a percentage of the proceeds to HSGP. For example, Bashas', Fry's and Albertson's grocery stores will return a percentage of the money our members spend at their store's. Amazon will also donate a percentage of sales that are made through the HSGP link. But first you need to enroll in the program(s) of your choice for this to happen. See article at lower right for more information.
HSGP member and Professional Realtor Vici Duarte has announced that she is offering a similar program. Vici will donate 10% of her net commission to HSGP. If you plan to buy or sell a home, speak to Vici at any HSGP event, or contact her by email at viciduarte@cox.net.
We are looking for other business people who might be interested in increasing their sales and then giving back to the Humanists. If you have an interest in a business, consider if you would like to offer a way to increase your business and support HSGP. Please contact our fundraising committee at hsgpfundraising@gmail.com about setting up a similar program.
Upcoming Meetings and Topics
The Humanist Society of Greater Phoenix is open to presentations on a variety of topics, many of which are controversial. Please note that the opinions expressed by our guest speakers do not necessarily reflect the viewpoint or philosophy of HSGP.
Message from the Membership Director
HSGP would like to encourage more families to join the humanist community. To help achieve this goal, we would like to develop and promote our own Humanist and STEM education for children. This is a plea for educators and parents to help develop and run such children's programs. These programs would occur simultaneously with our twice-monthly Sunday meetings. Other days could be arranged as requested.

With all the controversy that's currently occurring in this country, it is imperative that we instill upcoming generations with critical thinking skills and humanistic values. Children also need to be taught how to function as adults which, as I recently read, is not being taught in schools anymore. Skills such as cooking, sewing, managing finances, responsible parenting, taking care of a home, etc.

In the past, HSGP hosted an Odyssey of the Mind program, which disappeared due to lack of interest. Learn about OOTM at www.azodyssey.org/resources/. This is a program which exists with ready-made resources for someone who is willing to organize it. You can contact Brian Calaway at ootmafterschool@gmail.com for additional information/advice.

We also have a Girl Scout Troop which meets regularly (twice per month) during the school year (August through May) and irregularly during the summer. Contact Ann Marie Eisentraut at ann.eisentraut@gmail.com for information.

We have much literature available on Humanism which can be taught to both children and adults. I mail this information in a packet to everyone who becomes a dues-paying member of HSGP.

Please feel free to contact me if you have any interest in helping organize or participate in children's programs.

Welcome new members:

Jenifer Ireland
Peggy North
Seth Nydam
Bobby Van Waes

My next crochet workshop: making sleeping mats for people living on the streets is being held on Saturday, July 9, 10:00 a.m. to 1:00 p.m. You can sign up for this project on Meetup at Crochet Workshop July 9 .

AND - LAST BUT NOT LEAST - MY MONTHLY BLURBS



Volunteer Opportunities

We are always in need of volunteers to supply breakfast casseroles, help set up before and clean up after meetings and events, serve on various committees. We have a brochure with a complete list of volunteer opportunities on the info table at the front of the meeting hall. Contact Volunteer Coordinator Matt Ferrin at volunteer@hsgp.org for additional information or questions.

To volunteer for a Sunday meeting opportunity or other event, click on this button and select the event for which you'd like to volunteer.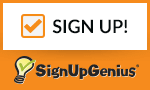 You can also find the SignUp Genius button on the home page of HSGP.org by scrolling down.



Your Participation is Welcome

This column is for the members. I'd like it to also be about and by the members by encouraging all of you to send me announcements of life events, questions about HSGP, contribute a piece for this column or suggestions of subjects you'd like to see posted here.

Please contact me if you need any membership information or have a change of address, phone number, or email. Anita Romanowski Membership Director
anita.romanowski@hsgp.org
HSGP Service Outreach Project
by Gwyndolynn Gentry


On June 11 we went to UMOM and served lunch to families seeking shelter. It was an amazing experience full of laughter and hard work. Who knew nachos could be so complicated! We also helped prepare eggs and potatoes for brunch the next day.

On July 23 at 4pm we will back at Paz De Cristo's to help with dinner again. This will be limited to the first 10 to sign up on Meet-up at Paz July 23.

At this time there are only 6 spots left. We welcome suggestions for future service outreach events.



I can be reached at Gwyndolynn@gmail.com .
Photos of the June 11 UMOM event courtesy of Pam Tidwell.
Keeping Up With HSGP
Social Media Matters
by Jennifer White
Time for an overview and update on our social media presence!

HSGP Meetup
http://www.meetup.com/Humanist-Society-of-Greater-Phoenix/

I would say that Meetup has the biggest impact on HSGP's reach. More people say they found out about us there than anywhere else. As of now, we have 1,504 folks signed up on our Meetup group! Some of them join us at our Sunday Speaker meetings and/or other events like Game Night, Humanities Project, Inquiring Minds, Book Club, Ted Talks/Interesting Discussion, and various charity/volunteer opportunities. Meetup is how we get great turnouts for special events like the Flying Spaghetti Monster Dinner, the Winter Solstice Celebration, the Darwin Day Luncheon, concerts, and visiting guest luminaries, resulting in income to help pay for our Community Center. A few of these folks even become dues-paying members of HSGP. Join us at Meetup now so you will always be abreast of what's happening next at the Humanist Center!

Facebook Discussion Group
https://www.facebook.com/groups/HumanistSociety/

This is an open group on Facebook, where people share posts and participate in conversations. Anyone on Facebook can see the fascinating articles and discussions, but you must be a member of the group to post or comment. Just go there and request to become a member. Richard or I will approve you. You must have a Facebook account. We do our best to keep out spammers (trying to sell you stuff) and we don't allow abusive comments. As of today we have 802 members in our group!

Facebook Page
https://www.facebook.com/HumanistSocietyofGreaterPhoenix/

A traditional Facebook page. Anyone can see it. You can react to and comment on the articles, events, and memes on the page. Only posts by authorized admins will appear on the wall. The public may post, but they will appear to the left of the wall. Stop by the page and check it out - then be sure to LIKE us!

Twitter @hsgp on www.twitter.com
https://twitter.com/)

Yes, we do have a Twitter account, but it has been all but abandoned. We really need someone who can take it over and start us tweeting again! Let me know if you are interested or know someone else who may be.

HSGP Website
http://www.hsgp.org

Ok, so not exactly social media, but internet presence for sure. When people google Humanism in Arizona, what pops up is our welcoming, attractive, and informative website. It is our face on the internet, where one can learn about Humanism in general and HSGP in particular – everything one needs and wants to find out is on our site, including contact information to find out even more! One can see our upcoming events, read our newsletter (as you are doing now), click on links to HSGP on Meetup and Facebook, learn about the charities and causes we support, utilize links to find other interesting Humanist sites, and much more.

Questions or need help?
Grab me if you see me at the Humanist Center in Mesa,
Message me on Meetup or Facebook (use links above), or

Email me at jennifer.white@hsgp.org

Meanwhile, have fun on the social media!
HSGP Humanities Project Fundraiser
Books & Music Bookshelf
HSGP's Humanities Project has a Book & Music Bookshelf for your convenient shopping pleasure. Books, CDs and DVDs on the bookshelf are for sale at a great price. The deals are even better on the 2-for-a-dollar bottom shelf. The Bookshelf is located under the bulletin board near the entrance to the restrooms.
The prices on these items are so great that some folks are using it like a rental library: They buy a book for a super-cheap price, read it, and bring it back as a donation. The book goes up for sale again, and they "buy" another one! Cool!
Take a look at the Bookshelf next time you're at the Humanist Community Center and consider buying or donating to this fun new effort.
"Homo sapiens is the species that invents symbols in which to invest passion and authority, then forgets that symbols are inventions."
Attributed to Joyce Carol Oates.
"The good life is a process, not a state of being. It is a direction not a destination."
Attributed to Carl Rogers.
Quotes courtesy of http://www.brainyquote.com
If you shop at any of the Bashas' stores (Bashas', AJ's Fine Foods, Food City), your local Fry's Food Store, or your local Albertson's HSGP can receive a percentage of the money you spend. In addition, when you shop at Amazon.com using our HSGP link, we receive a percentage of the sale.
To activate any of these no-cost-to-you revenue streams for HSGP, go to the HSGP Supporting Businesses page Supporting Businesses and follow the instructions for the program you want to use.
If you shop at any of the local stores that participate in this program, please consider obtaining and using an HSGP community support card whenever you make purchases. When we support our local merchants, they support us!
Susan Sackett, Certified Humanist Celebrant, would like to remind you that she is available for all your life passage ceremonies, including weddings and commitment ceremonies, baby namings, coming-of-age celebrations, funerals/memorial services, and even divorce celebrations!
Special 10% discount for all HSGP members and their immediate families!
Humanist Celebrant
. Discounts for HSGP members! Contact her at
Susan Sackett
.