Message from the Membership Director
As Humanists, we have an obligation to practice humanistic values for the betterment of people in need, the earth and all living things. This month's column is dedicated to encouraging the readers to take a more active role in helping to accomplish at least the human aspect of these ideals.

You may or may not be aware that for several years Kathy and Bruce Pettycrew have been collecting donations from HSGP members and visitors for Tumbleweed Center for Youth Development. We urge you to contribute to this very worthy ongoing project by bringing your contributions to the HSGP Community Center during any meeting or event. There is a small collection box at the back of the room in the right-hand corner.

What are Tumbleweed's needs? I'm glad you asked. Here are the links to their website and wish list:
Tumbleweed Website home page: www.tumbleweed.org/

Tumbleweed Wish List: tumbleweed.org/support/wish-list/

Last year HSGP formed a Homeless Taskforce to provide needed items to people living on the streets. After a few months the taskforce kind of disappeared into a black hole. Some of us would like to start it up again, but we need a strong leader to head it up. It was suggested that I take it over. Although I'm am enthusiastic about remaining active with the task force, my monthly crocheted sleeping mats workshop (see below) and my numerous Membership Director duties would make it virtually impossible and too exhausting for me to head up the task force. Please contact me if you or anyone you know would like to restart and facilitate this project. It could even be more than one person.

Two years ago, we gathered and packaged supplies to hand out to people on the streets. We would like to also continue with this project. More information to follow.

Continuing Sleeping Mats Workshop:

My next workshop will be held on February 14. Keep watching Meetup for my monthly announcements. Any questions can be sent to my email address located below my signature here. Bring supermarket grocery bags if you have them. If you don't have any bags, not to worry, we currently have a significant supply. Don't know how to crochet? No problem. You actually don't have to crochet; you can just make "plarn". However, I would like more people to crochet so we can get more mats completed. I or some of the "old-timers" will teach anyone who wants to learn. I also have some 10mm hooks available for $5.00.

Welcome New Members:

Jim Barrows
Sherry Celine
Susan Roxburgh

THE USUAL SPIEL

Volunteer Opportunities

We are always in need of volunteers to supply breakfast casseroles, help set up before and clean up after meetings and events, serve on various committees. We have a brochure with a complete list of volunteer opportunities on the info table at the front of the meeting hall. Contact Volunteer Coordinator Matt Ferrin at volunteer@hsgp.org for additional information or questions.

To volunteer for a Sunday meeting opportunity or other event, click on this button and select the event for which you'd like to volunteer.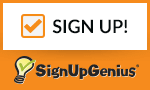 You can also find the SignUp Genius button on the home page of HSGP.org by scrolling down.



Your Participation is Welcome

This column is for the members. I'd like it to also be about and by the members by encouraging all of you to send me announcements of life events, questions about HSGP, contribute a piece for this column or suggestions of subjects you'd like to see posted here.

Please contact me if you need any membership information or have a change of address, phone number, or email. Anita Romanowski Membership Director
anita.romanowski@hsgp.org
HSGP Service Outreach Project
Children's Programs
by Jennifer White
Social Media plays a vital role in keeping up with and taking part in the issues that Humanists care about.

What do Humanists care about and what are Humanist values?

HSGP's motto: "To foster the secular humanist community and advocate for humanist values in Greater Phoenix."

About Humanism (from the American Humanist Association): "Humanism is a progressive philosophy of life that, without theism and other supernatural beliefs, affirms our ability and responsibility to lead ethical lives of personal fulfillment that aspire to the greater good of humanity."

We are responsible for leading ethical lives, and for aspiring to the greater good of humanity. How we do that is personal to each of us. Social Media is central to how we are able to express ourselves and organize to the extent that we are ready to be active, championing the causes that we deem important to making the world a better place.

Humanism is politically non-partisan. However, it is a progressive philosophy. That means we champion causes that promote for all people: equality, government representation of all, civil liberties, justice, dignity, environmental stewardship, sustainable and available energy, opportunity, peace, excellent public education, quality affordable medical care, sound science, freedom from hunger and homelessness, shelter from oppression and violence, protection of children, humane treatment of animals, and so many more.

Get active. However active you choose to be, social media is essential for:

* finding out
* staying informed
* showing your support
* getting out the word
* organizing
* finding like-minded people
* learning what the opposition is up to
* finding events to sign up for
* sharing events
* creating events
* expressing your opinions
* recruiting friends
* communicating with political leaders/legislators

Use Social Media to follow HSGP:

* Like and follow HSGP on Facebook. We have a page at www.facebook.com/HumanistSocietyofGreaterPhoenix/ and a discussion group at www.facebook.com/groups/HumanistSociety/

* You can find our events, all Humanist-related, on our HSGP website www.hsgp.org/ and on Meetup at www.meetup.com/Humanist-Society-of-Greater-Phoenix/

* Twitter account @HSGP to be active again soon.

Learn more about Humanistic political actions you can take, both from the comfort of home and out in the community. Go to these Facebook pages for a great start:

Secular Coalition for Arizona www.facebook.com/secularaz/

Secular Coalition for America www.facebook.com/SecularCoalition/

ACLU of Arizona www.facebook.com/ACLUofArizona/

ACLU Nationwide www.facebook.com/aclu.nationwide

American Humanist Association www.facebook.com/americanhumanist/?fref=nf

Americans United for Separation of Church and State (national) www.facebook.com/americansunited/

See you soon! I look forward to engaging with you at a meeting, letter-writing event, protest march, seminar, meet-your-legislator day, or any of the many events coming up in 2017!
HSGP Humanities Project Fundraiser
Books & Music Bookshelf
HSGP's Humanities Project has a Book & Music Bookshelf for your convenient shopping pleasure. Books, CDs and DVDs on the bookshelf are for sale at a great price. The deals are even better on the 2-for-a-dollar bottom shelf. The Bookshelf is located under the bulletin board near the entrance to the restrooms.
The prices on these items are so great that some folks are using it like a rental library: They buy a book for a super-cheap price, read it, and bring it back as a donation. The book goes up for sale again, and they "buy" another one! Cool!
Take a look at the Bookshelf next time you're at the Humanist Community Center and consider buying or donating to this fun new effort.
There comes a time in the affairs of man when he must take the bull by the tail and face the situation."
........attributed to W. C. Fields

"It is easy to hate and it is difficult to love. This is how the whole scheme of things works. All good things are difficult to achieve; and bad things are very easy to get." ........attributed to Confucius
Quotes courtesy of www.brainyquote.com
If you shop at any of the Bashas' stores (Bashas', AJ's Fine Foods, Food City) or your local Fry's Food Store HSGP can receive a percentage of the money you spend. In addition, when you shop at Amazon.com using our HSGP link, we receive a percentage of the sale.
To activate any of these no-cost-to-you revenue streams for HSGP, go to the HSGP Supporting Businesses page Supporting Businesses and follow the instructions for the program you want to use.
Susan Sackett, Certified Humanist Celebrant, would like to remind you that she is available for all your life passage ceremonies, including weddings and commitment ceremonies, baby namings, coming-of-age celebrations, funerals/memorial services, and even divorce celebrations!
Special 10% discount for all HSGP members and their immediate families!
Humanist Celebrant
. Contact her at
Susan Sackett
.